Scranton MMA offers Muay Thai classes for students taught by highly experienced teachers for beginners, the intermediate, and advanced- all are welcome.
Learn About Muay Thai
What is Muay Thai?
Muay Thai, also known as Thai Boxing, is a form of martial art and combat sport that utilizes the entire body as a form of weaponry. Powerful moves using punches and kicks teach defense and offense tactics that increase not only physical strength but also mental endurance.
This martial art is practiced in large parts of the world, including Thailand and other Southeast Asian countries. The art is similar to others in Southeast Asia such as "pradal serey" in Cambodia, "lethwei" in Myanmar, "tomoi" in Malaysia, and Lao boxing in Laos. Muay Thai has a long history in Thailand and is the country's national sport. Traditional Muay Thai practiced today varies significantly from the ancient art "muay boran" and uses kicks and punches in a ring with gloves similar to those used in Western boxing.
Muay Thai is known as the "art of eight limbs", as fighters use their fists, elbows, knees, and feet for striking and forearms and shins as shields to execute strikes with eight points of contact. Ultimately, the key is not how many kicks or punches one can execute, but how you can utilize Muay Thai to improve your physical and mental health.
You'll develop unmatched strength from hours of practice. Your sacrifice in time and energy is met with passion and dedication- teaching gratitude and respect for yourself and your opponents. It is an excellent option for those looking to put mind over body and express themselves.
Brief History of Muay Thai
The history of Muay Thai can be traced back to 13th century Thailand to the Sukhothai dynasty. The Thai army, in need of a way to defend their kingdom, adopted armed and unarmed combat techniques. The birth of Muay Thai paved the way for an official sport in the 20th century when kickboxers and fighters in Thailand adopted rules and regulations for the art form. It is now a widely recognized sport globally with a community of strong, dedicated fighters. It is now the national sport of Thailand.

Benefits of Muay Thai
Burn calories & lose weight

One hour can burn around 600 calories!

Self-defense

Mental endurance

Build muscle

Boost self-confidence

Increase endorphins

The chemicals released in the brain during activities such as Muay Thai aid in stress management and overall mental health.

Can lower blood pressure

Strengthen your whole body

Gain a community and support system

Anyone can learn Muay Thai

The bottom line, it's fun!
Muay Thai vs. Kickboxing
While Muay Thai and Kickboxing are commonly grouped together, there are a few key differences. The first difference is that Muay Thai uses its 8-point striking system, including elbows and knees, while kickboxing uses a 4-point striking system composed of only punches and kicks.
Muay Thai primarily focuses on moving forward and taking one's time to advance toward their opponent. Counterattacks are also fundamental. With kickboxing, there is much more head movement, weaving, and circling. These movements tend to be more defensive in nature, whereas Muay Thai is more aggressive.
The striking learned in Muay Thai is composed of simple, yet powerful strikes that keep balance. Kickboxers learn a larger array of strikes that can put one off the balance if missed.
Both Muay Thai and kickboxing are strategic and teach various techniques to beat opponents and defend oneself. In short, Muay Thai offers more techniques using your whole body as a weapon compared to kickboxing.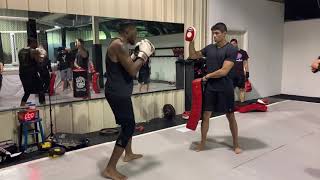 Muay Thai Facts
Effective in all forms of fighting

It is the most common striking style for mixed martial arts fighters

Has elements of older martial arts forms from Southeast Asia, called Muay Boran, or Ancient Boxing.

Muay Thai is an aspect of MMA that is a striking art, unlike other martial arts which involve ground fighting.

For those looking to train and do Muay Thai for non-competitive purposes, the risk of danger and health risk is low.

Muay Thai was designed to be simple yet effective in combat, so while it may be an intense workout, it is a great option for beginners.

Pronounced: "MOY•TY"
Muay Thai Gym near me
If you're interested in learning more about Muay Thai or taking a class, Scranton MMA is located in Dunmore, PA near Scranton, and offers both individual and group training. We want to ensure you have a good experience with our gym. That's why we offer a FREE first class to those who fill out our contact form.
Why Choose Scranton Mixed Martial Arts
Our gym is located in Dunmore Pennsylvania and we serve the surrounding area. We offer group and private training to anyone interested in Judo, Muay Thai, Boxing, MMA, and Jiu-Jitsu. Whether it is personal protection or a challenging level of physical training, Scranton MMA is the perfect environment to start your journey today!
Join With The
Free Trial

Offer

! We Offer A Safe, Fun, And Clean Environment To Learn Mixed Martial Arts.
Simply Enter Your Name And Email In The Boxes & Learn How To Get Started 100% Risk-Free.