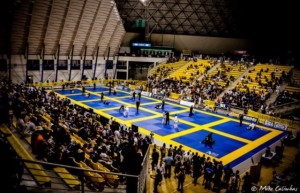 Scranton MMA will be sending seven competitors to the IBJJF New York Summer Open this weekend. This is an internationally ranked tournament, and we are proud of our students for even wanting to go out there and give it their all. We're not expecting everyone to bring home medals because in the end it's about learning, not winning. But we're very confident that everyone is going to leave everything on that mat and be a respectful athlete!
For those of our students who are competing this weekend or want to compete in the future, here are some tips for the day of the tournament to keep you feeling cool, calm, and confident.
It's just rolling 
Rolling. We do it every day on the mats with our friends. It's not that scary, right? So when you're out there at your first competition (or every competition in the future), just remember that you're just rolling with a new person! There's no need to make it too serious, or feel like there's a ton of weight on your shoulders. Just go out there, slap hands, and do your thing!
Play your game 
Now I know for some people it's difficult to think about competing as having fun. Some people are very competitive, and want to go for the win. If that's your gameplan, then you need to do your own thing. Don't let the other person set the pace or get their grips first. If you know what you want to do, just do it. Set your grips, set the pace, and impose your gameplan. If you get the first move of the match, you're already a step ahead of your opponent.
Breathe. 
Sometimes when you're competing you forget to breathe. It sounds silly, but it's true. We've all done it. You get so caught up in the moment that you forget to breathe. This leads to rapid fatigue to the muscles due to less oxygen flow to the muscles. It could also lead to feeling light headed and give you a cloudy mind. You want your body and mind to be functioning at 100% at all times throughout your matches, so remember to BREATHE and relax.
So there you have it! It takes a lot of heart to compete, and we're very proud of all of our students who are stepping on the IBJJF mats this weekend. When you're out there, remember to keep it light, play your game, and breathe. Good luck to everyone this weekend, and thank you for representing Scranton MMA!