So today I did a quick talk where I shared some tips that will help keep you safe if you are ever attacked and find your self having to defend yourself.  These tips do not involve techniques they are all mental but they will help keep you safe regardless of how much training you have done.  Obviously the more training the better. So let me just share these tips quickly and if you have any questions please let me know.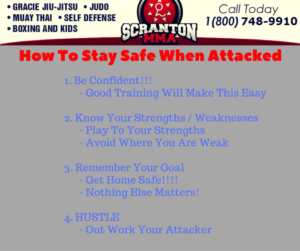 Be Confident
First things first you have to know you are ready and that you will be okay.  Do not let fear getting into your mind at all.  Now training is something that will definitely help you here.  The better your training the easier it is to be confident.  At first when I was training in a karate like style I was not truly confident.  It helped and I thought I would be okay when I needed to defend myself but it wasn't until I got pretty good in Judo / BJJ that I was truly confident in defending myself.  And its a great feeling to have.
Know Your Strengths / Weaknesses
This will help a ton.  Simply put you want to know where you are strong and try to make the 'fight' happen there.  Avoid your weak areas at all costs and make sure that is not what determines the outcome of the fight.  I know I am strong in terms of throwing or in the clinch and on the ground if I end up there.  So I want to make all self defense situations about throwing if I can.  I dont want it to look like a boxing match at all!!
Remember The Goal
To be honest a lot of people really mess this up!  The goal of a self defense situation is to get home safe.  That is it.  You dont need to look cool, you dont need to hurt the other person and you dont need to try a cool move you learned on youtube.  You just need to get home safe.  Make sure your ego does not get the better of you.
HUSTLE
No matter how good you are.. or how strong the other guy is.  You should 100% out work your attacker. Your life is in the line.  Make sure you do everything you can to accomplish your goal.  Whatever it takes you need to get home to your family.  Dont forget that.
If you want to watch the video where I talk about this in a bit more detail please visit www.facebook.com/scrantonmma
As always if you have any questions please just let us know and we will do our very best to help you out!