May has come to end, and it was a great month! We're seeing so many new faces, and everyone is improving immensely. The kids have had an especially good month. They spent the whole month training for their Judo promotional/tournament. They all did an awesome job getting ready and participating in the promotional.
There was one kid, though, who stood out from the rest this month. PERRY! Perry is six years old, but he always holds his own with the older kids. He goes to class all the time and works extremely hard. He's not one to goof around during drilling or sparring time. Seeing a smile on Perry's face is rare because he is a very serious kid, but if you can catch one while he's not looking it sure is a nice sight to see!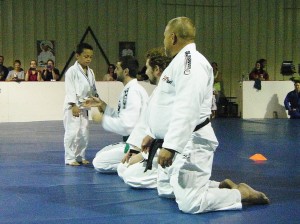 When Perry started training, he was very shy and it took him a few classes to get comfortable with the rest of the kids and the instructors. But as he started training more, he became more confident and he wasn't afraid to get on the mat anymore. Now, Perry will train with anyone you partner him with. Since he trains a lot with the older kids, his technique has been improving markedly. It's awesome to watch him spar and put in 100% every day!
When you see Perry at Scranton MMA, make sure you congratulate him! He might not say much back, but I know it would make him feel great!
If you or anyone you know is interested in an activity that will increase your child's confidence and skill, then Scranton MMA is the place to go. To schedule a tour of the facility and free trial classes for your child, call us at 570-851-2987 or email us at ScrantonMMA@gmail.com!