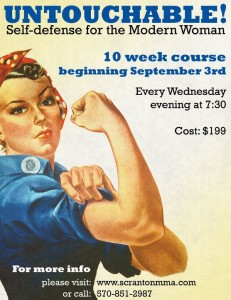 Registration is now open for Scranton MMA's women's only self defense course UNtouchable! -self defense for the modern woman! As unemployment rises so does crime – don't be a victim!
Be Prepared
With one rape happening every 6 minutes in the United States women need to be better prepared now more than ever. Something has to be done and that is why we offer Untouchable! What makes the Untouchable! program so effective is that you are not only taught the physical, verbal, and psychological techniques necessary to deal with an attacker but you also learn the universal guiding principles that govern the self-defense techniques. Why is this knowledge so critical? Because no two sexual assaults are exactly alike! Armed with your understanding of these governing principles you will be able to adapt every technique you learn in this program to your specific scenario if you should ever be targeted for an attack!
Transcending Confidence
Today's modern woman has comforts that fifty years ago few women ever thought possible: education, career, family, and material luxuries HOWEVER there is one advantage man will always have over woman – the physical and aggressive power advantage! This advantage of physical power is a source for many insecurities in women. There is an answer to the dilemma however; leverage. The practices of  Untouchable! employ leverage, technique, and timing, so any woman, regardless of age or athletic ability, can make them work against a larger more aggressive attacker. Once you have learned the techniques in this program you will be extremely confident that you can defend yourself should the need ever arise and that confidence will transfer itself into many other aspects of your personal and professional life!