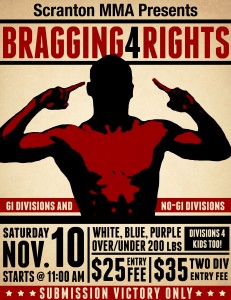 Bragging Rights strikes THIS Saturday! On Saturday, November 10th, 2012 Scranton MMA will be hosting its fourth annual submission only Brazilian jiu jitsu tournament ~ Bragging Rights!  Bragging Rights is Brazilian jiu jitsu stripped down to its roots – submit to win! Minimal rules, minimal weight classes and no points make Bragging Rights a true test of one's jiu jitsu skills!
FAQ's for the event:
Click For Here For Complete Rules
Spectators: A $2 donation is asked for all spectators ages 12 and up.
Refreshments: Water, Gatorade, Soft Drinks, and Energy Drinks will be available.
Registration: At the door (cash is king but other methods of payment can be accepted)
Weigh Ins: immediately following registration.
Bracketing: immediately following weigh ins.
Division Order: Kids -> Purple Belt -> White Belts -> Blue Belts  (teen and women divisions will determined based on number of competitors present. If there are not enough teen or women to fill a bracket they will be given the option entering the adult division.)